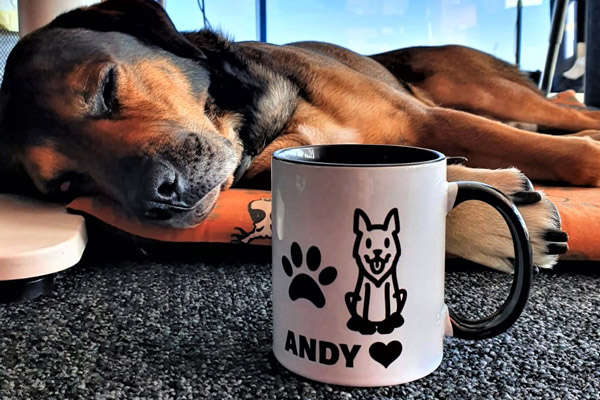 What kind of puppy will you have on your mug?
It's known that a dog looks like its owner, not only in appearance but also in character and personality. And just like with humans, every dog is unique. Therefore, OriginalPeople want to offer you the best designs so that you can design your own custom dog mug!
The classic golden friend
Golden Retrievers are very versatile. They are known as bird dogs, service dogs for the disabled, search and rescue dogs, and of course family pets. They are adventurous by nature, so they love a good game of returning the ball or a long bath. If you have a golden and labrador, make a dog mug showing your friends and add a text.
A fella with a funny beard
The Schnauzer is a dog that shows no signs of shyness or timidity. Moreover, they are active dogs, always alert and ready for action. The Schnauzer is a dog with a very formal temperament and adapts well to family life, whether it is in a large country house or in a flat in the city. If you have a Schnauzer, make a dog mug with him, yourself and a cool symbol. You can also add a fun text.
More than 101 spots
The Dalmatian is a dog breed that owes its name to the historic region of Dalmatia. It used to go next to horse carriages serving as a watchdog, making it the traditional firefighter and stable dog. They have also been employed in war related occupations. If you have a Dalmatian, make a dog mug to show you are on duty.
Tough boys are also cute
Today, Pitbulls and Bulldogs are both world famous breeds, and can be found as guardians in homes all around the world. They are both strong and kind pets. However, they are often considered wrongly as "aggressive dogs", so let's change people minds with a cute bulldog or pitbull dog mug.
The running buddy
The Greyhound is the fastest dog in the world, capable of speeds of up to 65 kilometers per hour. They were originally bred as hunting dogs to chase hare, foxes, and deer. Greyhounds are kind, sensitive and tender dogs. However, they tend to be independent and reserved, so they need their space. Not surprisingly, Greyhounds made a name for themselves as racing dogs. Because of this, you can likely find them retired and in the care of shelters and rescue groups. Consider adoption if this is the breed for you.
Petite friends make great companion
Chihuahuas and Maltese dogs are faithful, friendly and very familiar… if they are treated respectfully. Aren't we all? Chihuahuas and Maltese dogs are the perfect dogs to bring with you! Chihuahua is the smallest dog in the world and has the most famous owners and the longest life. It feels at home on the big scenes, in handbags carried by stars like Madonna, Britney Spears and Paris Hilton.
The Maltese is a gentle, intelligent dwarf dog with quick perception. They are also known for luxury and flair and have always been popular among the upper class. They can do all the exercise they need just at home. Both breeds can show easily strong temper and their petite build is contradicted by their bold presence.
A street dog can also be your BFF
Just as the Disney tale proved, two completely different dogs, like a Cocker Spaniel and a Street dog, can make a great match in your home. There's always a tiny puppy out there waiting to be adopted!
These are not the only options we have!
You will see more breeds in the builder on any of our online stores, where you can personalise your dog mug, depending on the puppy you have under your roof. Go ahead and check all the different pets, bodies, figures and symbols we offer for you to create your unique one.
And as dog lovers, we want to offer you a 15% discount on your whole purchase! Promo code OPDOG