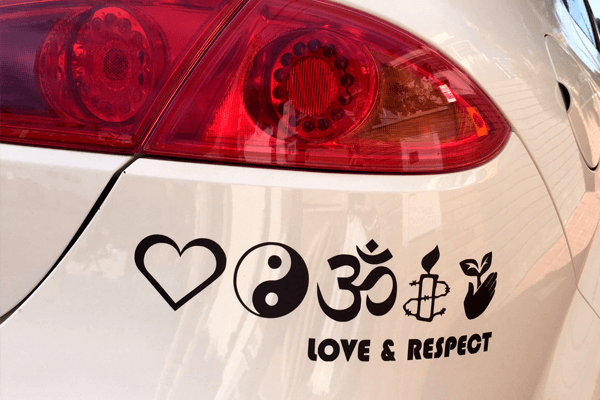 Today our protagonists are the decorative vinyl stickers of symbols, that you like the most and that's how we created them in OriginalPeople, so you can put them where you want.
All the emojis you want

First of all we offer you the emoji stickers, there are a lot of them! Come in and take a look at them, everyone loves emojis. Why not have the one that most identifies you, stuck on your computer, in your car, or on your window …? We have one for each emotion, whether you feel affectionate, happy, even amazed, or madly in love, that's what we bring you: vinyl stickers so funny, you won't know where to apply them anymore.
Yin and Yang and the peace symbol

The yin and yang, another symbol that transmits peace, connection, tranquility … to paste on your mobile phone, in your folder, on your computer … this will accompany you on your best and worst days to transmit all that good energy to you, and for good energy the one that today gives us the symbol of peace. This is how this symbol of peace, lots of love and lots of tranquility represents us, you can see it in our store now!
Stickers for your Caravan

We continue with the stickers with the caravan symbol, these are a success among our public, for all those who have, or wish to have a caravan, we fulfill your dream, in a sticker! Check out more ideas here.
Heart vinyl stickers

Our star stickers and heart stickers also triumph, here there is a lot of love and we love that, because it means that many of you feel loved or love someone, and that is very important!
Your imagination has no limits…
Remember that there is no age limit to start designing your adhesive vinyl, depending on how you like it and then place it where you want, or also to give to the person you love the most. It is a very nice gift that will surprise anyone of any age. Try it now!
BE ORIGINAL WITH ORIGINALPEOPLE!