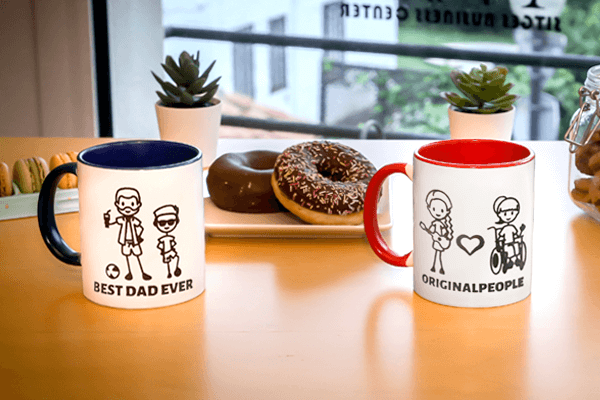 At certain times, there is no better solution than a cup of a hot drink to lift your spirits or to give you the energy you need to deal with a long day. It's a moment that can mean a lot to someone in their day-to-day, so: Why not make this daily habit a little more special for someone by giving them a beautiful and unique gift? Here are some ideas to inspire you when designing these gorgeous personalised mugs.
Give your grandparents the love they deserve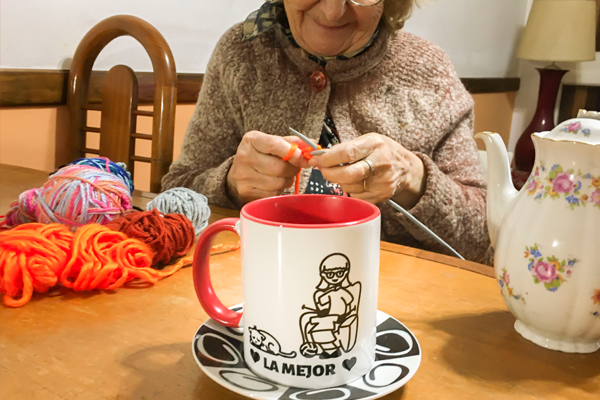 It's time to give back for all those delicious meals, to the person who knits the best scarves in the whole world. If you are looking for an original gift for your grandmother, here we bring you a great idea. Just imagine how heartwarming it will be for your granny to constantly be reminded of her grandchild when having her afternoon tea. You can also add her favourite pet to your design!
Mugs for your better half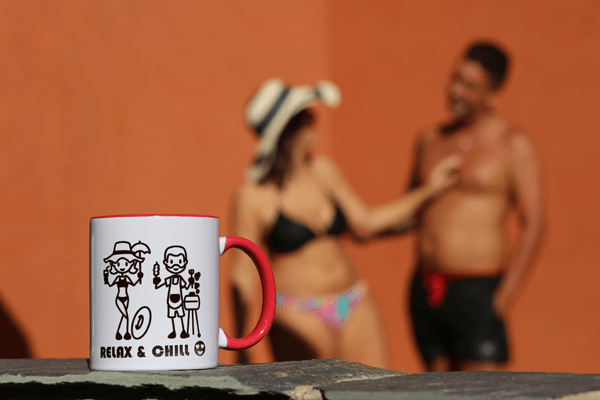 Enough with roses, enough with chocolate and enough with gifts that are left on a shelf gathering dust. It's time to show your creativity to the one you love the most! This gift will perfectly demonstrate the affection you feel.
Mugs to spoil your mom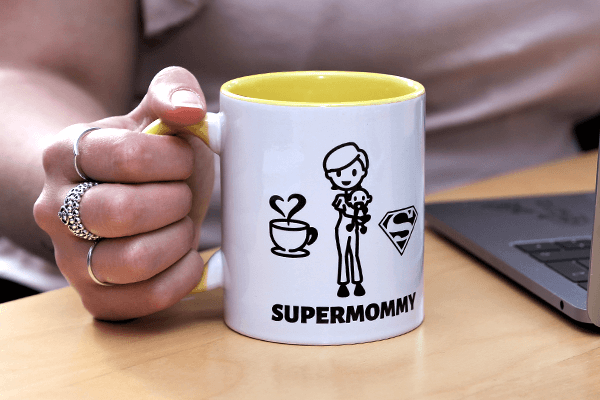 We are going to give our super mom the gift she deserves . What better gift for her birthday or to surprise her with a special breakfast at home. It's never wrong to show a little love?
Time to treat yourself to a gift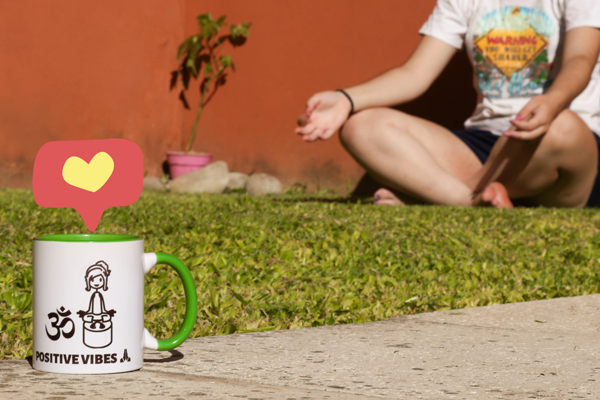 What if you just want to give yourself a present because you're just a cool person? Of course you deserve it! At OriginalPeople, you can create your personalised mug with dozens of symbols to choose from. What represents you best? Have your sticker put on your work uniform or wear the clothes of your favorite sport. How about a cup for your relaxing moment before doing Yoga ? There is nothing better than self-love!
Possibilities are endless!
Don't limit yourself to the options mentioned above: You can surprise anyone you love: your mother-in-law, father, uncle, your partner, best friend whenever a special occasion takes place. It's a perfect and original gift for anyone you want. Remember that you can also create personalised mugs with your pet.
Don't forget that on our Instagram we usually share promotions and discount codes so that you can continue enjoying this exclusive product, at the best price. Follow us!
Ver esta publicación en Instagram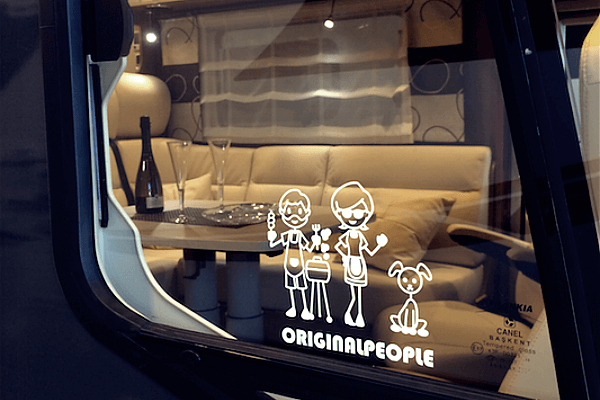 A lifestyle
For loads of people, camping has become a lifestyle and more and more families get a RV, motorhome or caravan to travel around the world and to explore incredible places with. In this article we will show you why our Stickers for Caravans are meant to be for you.
Today there are tons of camper communities: people who share the same love for traveling without sacrificing convenience and comfort.
For these people the caravan has become a second (or even first) home and they love to personalise it in order to make it unique, cozy and original.
And that's why many people choose to design their own personalised stickers!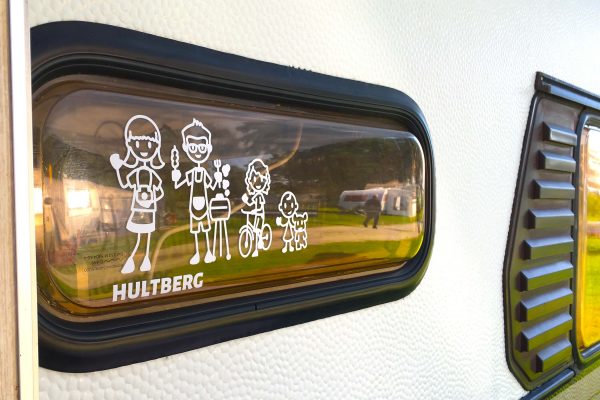 Add a personal touch to your camping experience
It's fun to choose between heads, bodies, animals, and symbols when designing your own, unique decal. There are thousands of combinations, and you can move the figures around, change the colour and add your own custom text!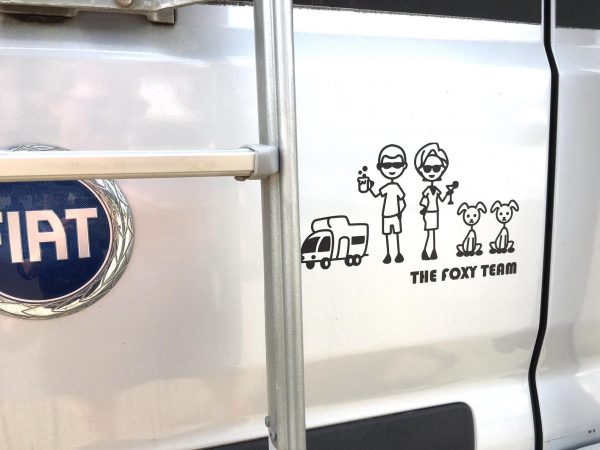 Our weather-resistant vinyl decals are available in two colours: black and white. Choose whichever colour best suits the background the sticker will be applied on.
The Foxys have chosen a black sticker for their silver camper. They love chilling out in the grass with their doggies and enjoy getting mesmerised by stunning sunsets all around the world.
Several clubs have created their own sticker decal with the club's name as well as a selection of characters and symbols, which gives a strong sense of belonging. It's a lot of fun to see stickers from other campers' caravans when you're on the road or at a campsite.
Moreover, our stickers are very easy to design and to apply! You will receive the complete instructions with your order. We promise you a great time with our sticker decals!
Start designing your Caravan Sticker now!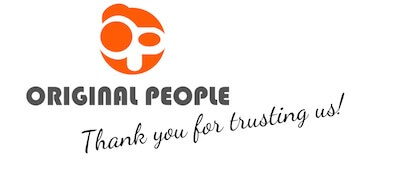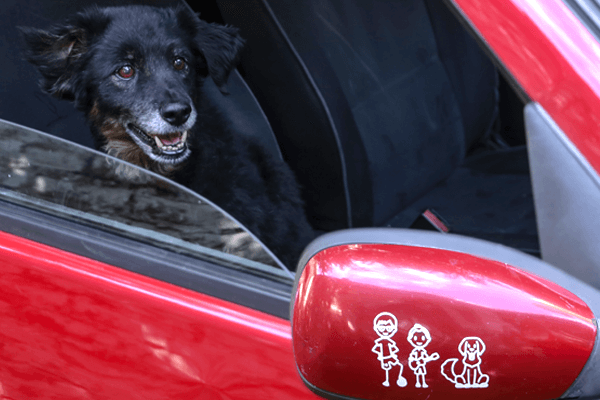 Many of us like animals and many of us have them as pets, and for sure we all want to take care of themselves in the best way, because they are a huge part of our lives and they mean so much to us. These Animal Vinyl Stickers of your favorite pet or animal is an original and fun way to always carry it with you.
Since we love animals so much, we offer you the Top 10 of animals and pet decals that are a success between our friends. Now you can take your pet friend wherever you go, whether by car, motorcycle, caravan… posibilities are endless for all these animal vinyl stickers!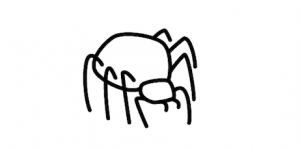 NUMBER 10: A Spooky pal
In the last place, we have this cool spider, which is popular to have in terrariums. They are also common as pets, and therefore accompany us in our top 10 today. Get ready to get spooky!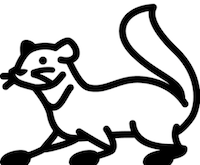 NUMBER 9: The tale of a big tail
For those brave and adventurous we bring you a really dangerous design! A ferret car decal, for those who have this beautiful animal as a pet.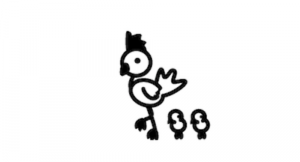 NUMBER 8: Waking up at dawn
Other small animals, which we are also used to have in our gardens, are chickens. We have a really cute chicken car decal for you, with a mom and her kids walking behind her.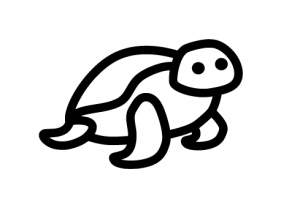 NUMBER 7: A Slowly and kind friend
The turtle, a very slow animal, but we love its funny way of moving its head and body. The shell is hard as a stone, which they can hide within so nobody can disturb them. Usually they prefer to live outside, in the garden. We love this turtle car decal.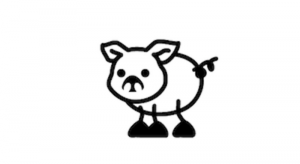 NUMBER 6: So fluffy and so cute
Other vinyl animals that we also like a lot are the guinea pig stickers. These are really cute. And are becoming more and more popular as pets. You can choose one or many of the pigs, write a text that you like and then choose between black or white vinyl. The guinea pig decals for cars are really popular.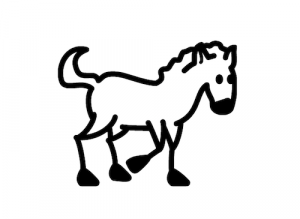 NUMBER 5: Ready for a ride
Do you have children, friends, relatives who are in love with horses? Maybe they do horse riding or they just simply love these animals. Here we suggest a perfect gift for them, the horse car decals are original and can be customized for cars, mobiles, computers etc. Just choose the size you want.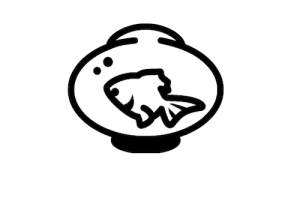 NUMBER 4: Fun Underwater
The fish is another animal that we like to have as a pet. They usually live in aquariums, either alone or with other water species. We propose that you create fish car decals with the name of your fishes, and stick them on the aquarium. Fishing car decals are easy to apply on a glass surface.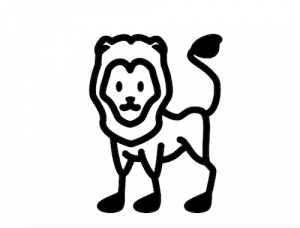 NUMBER 3: Ready to roar
In the top 3 we have a somewhat special animal, since it is not common to have as a pet. But even so, it is the favorite animal for many persons. We talk about the lion, which in our list of animal vinyls occupies the 3rd place. We have both a female and male lion. Since it's a wild animal not everyone has the luck to see them in their natural environment, so we offer you lion car decals that you can personalize with your favorite name, color and size.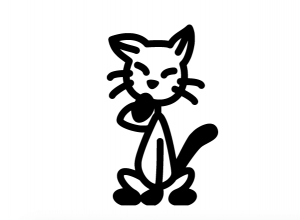 NUMBER 2: A furry friend
In the top 2 of today's blog we have the cat, which is one of the most common pets. That's why we propose a series of cat car decals that you can place on your rear window, your mailbox or wherever you want. Since the cats tend to stay more at home, we also propose the sticker vinyl for windows. They are fun, original and easy to apply.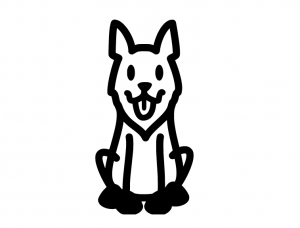 NUMBER 1: Everyone's Fave Pal
In the top 1 of animal vinyls today we have the dog, a great example of pets which are present in many families. Since dogs are our faithful companions, we usually take them with us wherever we go, so why not on our car? In our library we have many different breeds that you can choose between, to get the best personalized dog car decal for you. To apply on your car, scooter, bike etc.
What are your fave Animal Vinyl Stickers?
Create your design now!